We offer a cost effective Clerk of Works service offering high quality practical solutions for today's building commissioners.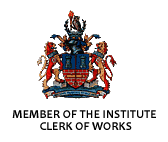 Over 30 years experience as Clerk of Works specialising in site quality assurance and site quality control for all trades of construction, offering a comprehensive Clerk of Works service to private and local authority clients.
Our practice can offer a comprehensive service including External and Internal Surveys. We have over 30 years experience in all aspects of Building Construction, Stone Repair, Civil Engineering, Mechanical Services, Landscape and Environmental Projects and Refurbishment of Tenement Buildings.
DA Gilmour (Ltd) is a Scottish registered company, Reg No 200617 and is run by the 2 directors Davie and Mary Gilmour.
Davie Gilmour is the managing director who has worked in the construction industry for the past 40 years, has an HNC in Building, is a Member of the Institute of Clerk of Works and a Member of the Association of Planning Supervisors. Davie started his career as a joiner apprentice in 1960 then worked his way through the industry as a joiner on the tools to a foreman.
He then became a partner in a construction company who specialised in major concrete construction including bridges, water tanks, sewage treatment works and office developments. From there he became a Clerk of Works with Central Regional Council working on capital expenditure projects such as schools, police and fire stations, water treatment works and social work offices.
Davie then became a partner in one of Scotland's leading clerk of works practices until 1999 when he started D A Gilmour (Ltd) which he runs with his wife Mary who is the company secretary and his daughter's Karen and Louise who carry out all the necessary administrative and financial functions.
All 20 of our staff have a wealth of experience in the construction industry and most of them are members of the Institute of Clerk of Works, they are supplied with a mobile phone which allows the client and design team to contact them at all times.
We have among our staff clerk of works with expertise in the following fields:
Brickwork
Plasterwork
Joinerwork
Paintwork
Structural Concrete
Structural Steel
Mechanical and Electrical
Attend pre-start meeting
Prepare, Drawing Register and Site Diary
Prepare files for Minutes of Meetings, AI's, letters and any other communications etc.
Check all contract documents, specification and method statements for the contract and ensure that all are in compliance and that there are no errors, discrepancies etc.
If and when necessary check and examine products, materials etc off site and/or at contractors, sub-contractors, suppliers etc premises.
Check that the works proceed in accordance with programme and record programme against actual activities.
On a daily basis keep a Site Diary recording events each day such as weather/temperature, labour record, all AI's, dayworks issued, hours or time lost and by which trade, any non-compliance of the contract documentation, visitors to site, all plant on site, all directions noted, any accidents on site, all tests carried out, any non compliance of Health and Safety Regulations.
Advise the Client/Project Manager/Employers Representative/Architect immediately of any problems arising and of any decisions needed.
Confirm all oral directions to the contractor in writing and copy this to the Client/Project Managers/Employers Representative/Architect.
Prepare and issue a Weekly Report to the Client and all members of the Design Team stating all events of the week on site to include progress of each trade against contractors programme, any instance of non compliance. This report will also advice of any delays to the contract and the reason for them, advice of any problems with co-ordination of trades etc, and will also include any variations to the contract and the effect this may have. This will also show all labour each week, temperature and weather conditions each day, all plant on site and all AI's, dayworks issued etc, all visitors to site and tests carried out.
The Clerk of Works will notify the Client/Project Manager/Employers Representative/Architect immediately of any non-compliance Health and Safety policy and/or CDM Regulations. This will also be recorded within the Weekly Report.
The Clerk of Works will also monitors contractors Health and Safety Plan and Method Statements, if required will add any input to the Health and Safety File before handover to the Planning Supervisor.
The Clerk of Works will carry out regular checks on the contractor's first aid facilities, emergency evacuation drill, warning signs and displays of relevant notices and posters etc.
The Clerk of Works will maintain a record of as-built drawings
The Clerk of Works will keep a photographic record of any variations or hidden works or where necessary.
The Clerk of Works will carry out inspections at completion stages and prepare schedules of defects/snagging list and issue to the contractor, Client/Project Manager/Employers Representative/Architect and Design Team.
The Clerk of Works will carry out inspections at the end of the Defects Liability Period and prepare a report on any further schedules of defects necessary.